Ordering extra photos
---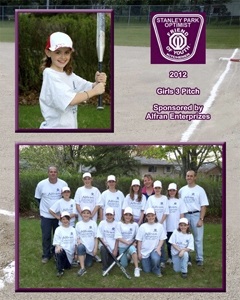 Note: Pictured is a sample of a Memory-Mate from 2012. Each year has a different design, i.e. the layouts, border colours, backgrounds, fonts etc. so 2023 will feature another new layout.
PO BOX 9

65 Woolwich St. S.

Breslau, Ont., N0B 1M0

Kevin Garrett

kevin@pkgphoto.ca

Text/Cell 519-572-4570

Phone 519-648-9708

Players Name

Street

City

Postal Code

Email(s)

Phone(s)
Each team's photos will be taken during the early part of the season at one of the team's scheduled events as per its playing day preferences. Individual players who miss their team's photo shoot still have the opportunity to submit their own individual photo for inclusion in the photo package. Forward a good quality photo (large file size) of the player in full uniform (with full name and shirt number, team name and league) to Ball@stanleyparkoptimist.com
Note: Each player is already being provided a Memory-Mate (8 x 10 print includes team and player photo) as part of the registration fee. The following items are being offered in addition to the Memory-Mate. Each item is $12 (including HST as applicable).
ITEM A: Extra Memory-Mate Quantity of A__________
ITEM B: Onex10 print of the player Quantity of B__________
ITEM C: Two 5x7 prints of the player Quantity of C__________
ITEM D: Four 4x5 prints of the player Quantity of D__________
ITEM E: Two Player Photo Buttons (2 ¼") Quantity of E__________
ITEM F: Two 5x7 prints of the team Quantity of F__________
ITEM G: One 8x10 print of the team Quantity of G__________
Total Quantity of items_________
Please confirm the total number of items ____ @ $12.00 = $_______
Total owing, and attached, for the above $____________
Please make cheques payable to: PKG Photography
There will be a $25.00 charge on all NSF returned cheques.
Orders and payment will be accepted on photo day before your child's photo is taken.
Orders placed on (or before) your child's team photos are taken will be available, along with the player medallions, to coaches on their team's final game day. You must make your own arrangements with your team's coach to get your player photos, etc. if you miss the day specified for your team's distribution thereof.
Ordering information: Extra photos can be ordered when you register on-line or use this link for a printable photo order form. Completed forms, along with payment, can be brought to any of the registration sessions or your team's photo appointment. Orders for additional photos 9for the 2023 season) will be available at your team's final game, along with team's other photos, if the order is placed with PKG before May 30, 2023.