Club Executive & Board
---
Photo of the newly inducted officers and directors. (Oct. 7,2014 at Milton's in Kitchener) (L-R) Peter Hoffman, Agnes Gilleck, Craig Findlay, Joe Watson, Aldene Waud, Rick Waud, Sharon Ball, Dave Wilburn and Mark Kerr.
Obituaries
Sharon Ball (Jefferson)
Sharon passed away peacefully at home on Monday, January 8, 2018. Beloved mother of John Ball and Marg Knabe (Lutz). Proud Nana of Nicole and Chris Knabe. Dear sister of Ed Jefferson (Sandra) and the late Margaret "Peg" Buchanan and William "Bill" Jefferson. Sharon retired from CIBC after 40 years of service, and was recognized as the first female manager in the K-W Region. She spent time as Vice President of the K-W Women's Business Club and was a Past Governor of the Midwestern Ontario District of Optimist International. Sharon was currently a member of the Stanley Park Optimist Club serving as President and a valued member of the executive. She was one of the mainstays at the Club's bingo sessions and assisted with the Optimist Ball Program - namely at Photo Day and the HotDog Day wrap-up celebration. For 13 years, Sharon also volunteered at the Grand River Hospital, mainly in the gift shop.
As expressions of sympathy, donations to the Heart and Stroke Foundation, Grand River Hospital Foundation - Cancer Centre or Optimist International Foundation Canada would be appreciated by the family.
Visit www.henrywalser.com
for Sharon's memorial.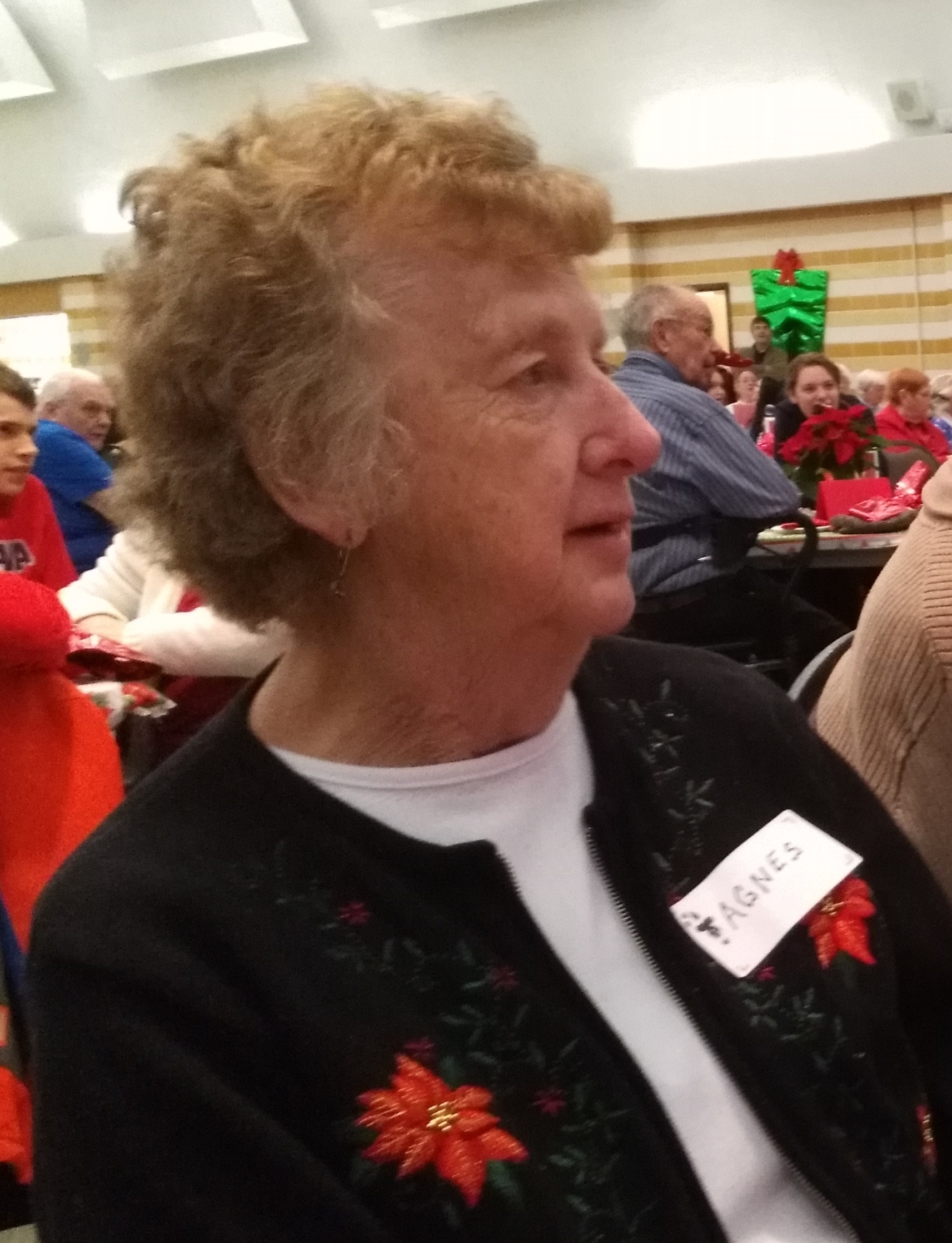 Agnes J. Gillick (Young, formerly Lipskie)
Passed away peacefully, with family by her side, on Friday, July 31, 2020 at St. Mary's Hospital in Kitchener, in her 80th year. Loving mother to Laurie Jasper (Brian) and cherished grandmother to Jessica. Dear sister to Gordon Young (Rita) and Ellie Small (Willie). Dearly missed by sisters-in-law, Margo (Don) Schreiber, Pauline Schopf, Rose Lembke, Linda Stephen and Carol Johrendt as well as brother-in-law, John Helm. Fondly remembered by many nieces, nephews and friends. Predeceased by first husband, Frederick Lipskie, second husband, Joseph Gillick, and siblings, Jim Young, John Young, Helen Farrell, Donald Young, Mary Helm and Edward Young. Agnes served several terms as a director of the Optimist Club of Stanley Park and was involved with the Waterloo Horticulture Society and the Ladies of Waterloo Optimist Club. (The photo is from the 2018 Christmas Tea hosted by Grand River Collegiate which Agnes attended each year as a representative of the Optimist Club of the Stanley Park --- one of the event's sponsors.)
As expressions of sympathy, her family asked that donations be directed to the St. Mary's Hospital Foundation. Visit www.henrywalser.com for Agnes's memorial.
*******************************************************************************
2022 - 2023
Executive for the
Optimist Club of Stanley Park
President - Mark Kerr (ccmkerr@hotmail.com)
Vice-President - Rob Graham
Secretary - Joe Watson
Treasurer - Rick Waud

Directors
Aldene Waud
Chris Thorne
Carole St. Amour
Dave Wilburn
There are also various committee chairmen and event coordinators.
In 2017, the Club gave best wishes and presented the Bauman family (Ron, Sharon & Mike) with a going-away gift as they're already packed and heading off to reside in Elliot Lake. The Club formally announced the end of the School Fishing Program -- and thanked Ron for his leadership with it since its inception. Ron has donated the fishing gear to the police so the Kids & Cops Fishing Program can continue.
The Club also confirmed that it has given up responsibility for hosting a bingo session every second Saturday evening so, with revenue thereby severely reduced, the executive will need to reassess commitments and funding of various programs.
__________________________________________________________________________
Subsequent: In 2022 the Club resumed hosting bingo sessions but cut back to one per month.